Where to get tested in Armenia?
Where to get tested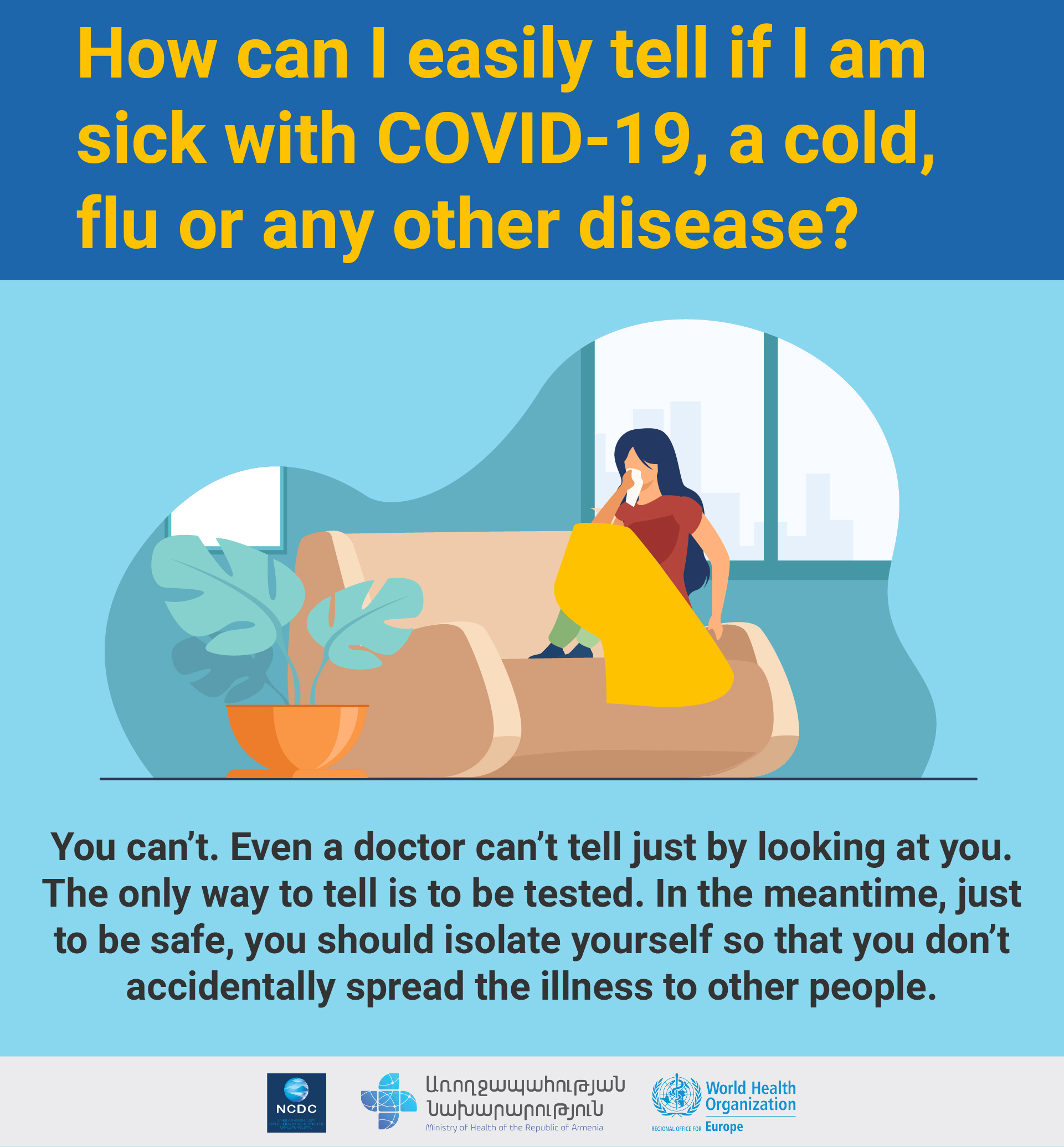 Population groups whose PCR testing is performed withing the framework of State financing
a. A patient visiting any medical Institution with fever (37.50 C) and concomitant respiratory disease or other symptoms,
b. A patient who has been exposed to a confirmed case of COVID-19 infection, has a chronic illness and has fever or symptoms typical of a respiratory infection,
c. A patient who was radiologically examined and diagnosed with "Pneumonia"
d. Newborns with confirmed COVID-19 infection,
e. Women who recently gave birth and pregnant women attending Obstetric Hospital, or pregnant women attending women's clinic with fever, cough, or shortness of breath,
f. In the framework of state-financed medical care and healthcare service for the individuals with disturbing symptoms of Acute Respiratory Infection of conscription age summoned during 2020 summer conscription,
g. Stem cell autologous transplantation patients and the individuals taking care of them,
h. Patients diagnosed with "Tuberculosis" prior to the treatment, patients receiving Hemodialysis, and their service staff
i. Medical workers currently working in a medical facility who have fever, cough, or shortness of breath,
j. Beneficiaries and staff of organizations (specializing in daycare for elderly, disabled, psychiatric, medical institutions, etc.)
k. Public health employees who perform research, sampling and/or are involved in a laboratory diagnosis of coronavirus,
l. The staff of Detention centers who have direct contact with convicts1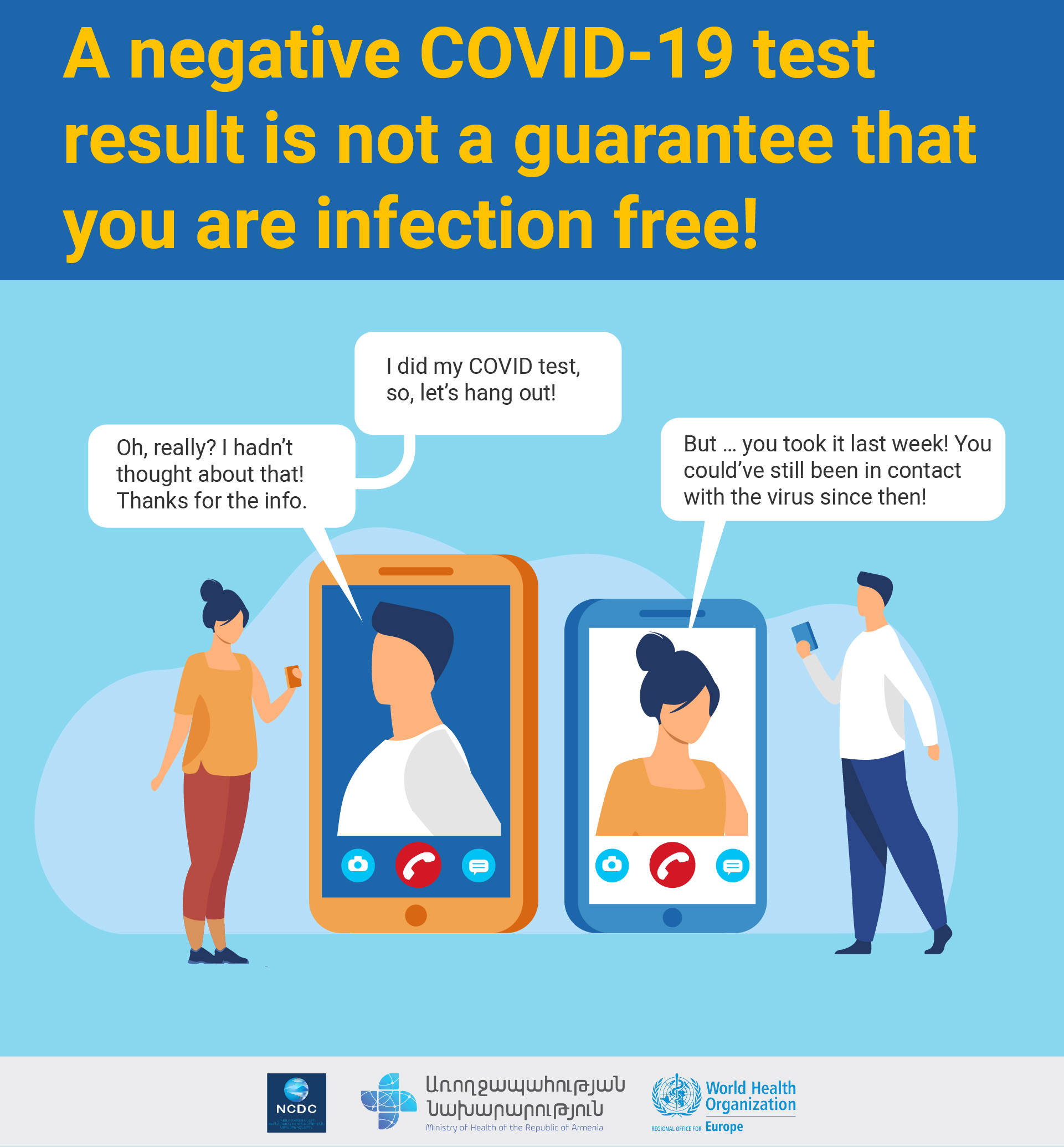 Private laboratories (paid)/ Paid COVID-19 tests are available.
1. "National Center for Infectious Diseases" CJSC
2. "National Center of Pulmonology" SNCO
3. "Natali Pharm" LLC ("Astghik" Medical Center)
4. "Prom-Test" LLC
5. "GISANE" LLC ("Davidyants Laboratories")
6. "Ecosense" LLC
7. "Normed" Medical Center LLC
8. "Sirmed" LLC
9. "ABMed Diagnostic Laboratory" LLC
10. "Diagen Plus Virology" LLC
11. "CITO LAB" LLC
12. "Arabkir" Medical Complex - Institute of Children and Adolescents
13. "Biomed" LLC
14. "Arinterlev" LLC
15. "Almaxims" LLC
16. "Armenia" Republican Medical Center CJSC
17. "Arman Hovhannisyan" Private Entrepreneur ("Blood Cells" Laboratories)
18. "Nairi Medical Center" CJSC
19. "Master Pharm" LLC
20. "Garimed" LLC
21. " Fenix-Med" LLC
22. "Surb Mariam" LLC
23. "Eurolab" LLC
24. "Doctor Lab" LLC
25. "Artlab" LLC
26. "Lorimed" LLC
27. "Histogen" LLC
IMPORTANT If you are getting tested for travel purposes, please make sure to check with your airlines which laboratories are approved by them.