What to do if you have COVID-19 symptoms?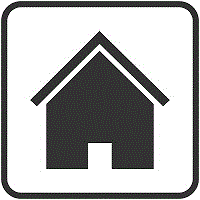 1. Stay in
Stay at home, except for the cases when you need medical assistance. Do not go to work, school, or public places; avoid using public transportation/taxis. If you need food, other items, or medication, it's better to order them over the phone or online.

2. Self-isolate from other household members
If you share the place with other members of your family or some other people, self-isolate in a well-ventilated room with opening windows. Ensure you sanitize the whole area with a sanitizer containing 70-80% alcohol. Regularly properly clean the bathroom, take turns when using the bathroom. At the same time, the isolated person should be the last one to use the bathroom and then clean and sanitize it properly. Store the towels (hand towel and bath towel) belonging to the isolated person separately from the towels of other household members.

3. Practice social distancing (1 – 1,5 m).
Practice social distancing (1 – 1,5 m). Avoid hugging, shaking hands, kissing.
4. Call the doctor instead of visiting.
Discuss all the medical visits in advance with the respective specialist.

5. Get tested (link to the Testing page)
If you have symptoms of COVID-19, get tested. While waiting for test results, you stay away from others, including staying apart from those living in your household. ²

6. Wear a medical mask
Wear a mask when you are in a room with other people.

7. Cover your mouth and nose while sneezing and coughing
Cover your mouth and nose with disposable tissue when you sneeze or cough. Afterward, throw the tissue into the plastic trash bag and wash your hands immediately.

8. Wash your hands frequently
Please wash your hands often with soap and water for at least 20 seconds and dry them thoroughly. Avoid touching your eyes, nose, and mouth with unwashed hands.

9. Separate household items
Keep your dishes, towels, beddings, and other household items separate from the other family members. After using those items, wash them thoroughly with soap and water.

10. Do not accept guests
Only your family members can stay with you at your house. Do not invite and accept guests. Socialize online!

11. Pets
Try to stay away from your pets. If that is not possible, wash your hands before and after touching them.

12. Do your laundry with the hottest water possible
When doing your laundry, use washing powder and the hottest water possible. Dry and iron the clothes with the highest temperature possible. Wear a pair of disposable gloves and apron when dealing with dirty items.

13. Do not send your laundry to the laundromat or wash-house
Do not send your laundry to the laundromat or wash-house

14. Close the trash can tightly
Place all used tissues, masks, and other household waste in a plastic trash bag, tie it tightly when full, then put it into another one and remove the garbage.

15. Monitor the progress of the symptoms
If the disease gets worse and you are experiencing fever, shortening of breath, development of symptoms, or newly emerged symptoms, please call 060838300. Please contact the ambulance and tell the administrator that you are in self-isolation and in an emergency.
Reference list