What to expect after vaccination
Common side effects
COVID-19 vaccination will help protect you from getting COVID-19. You may have some side effects, which are typical signs that your body is building protection. These side effects may affect your ability to do daily activities, but they should go away in a few days. Some people have no side effects1.
Common side effects:
● On the arm where you got the shot: pain, redness, and/or swelling
● Throughout the rest of your body: tiredness, fatigue, headache, muscle pain, chills, fever, and/or nausea1
Like all medicines, vaccines can cause side effects. Most of these are mild and short-term, and not everyone gets them. Not all COVID-19 vaccines are the same. The AstraZeneca vaccine tends to cause fewer side effects after the second dose. Pfizer and Moderna cause more side effects after the second dose. The very common side effects are the same and should only last a day or two2.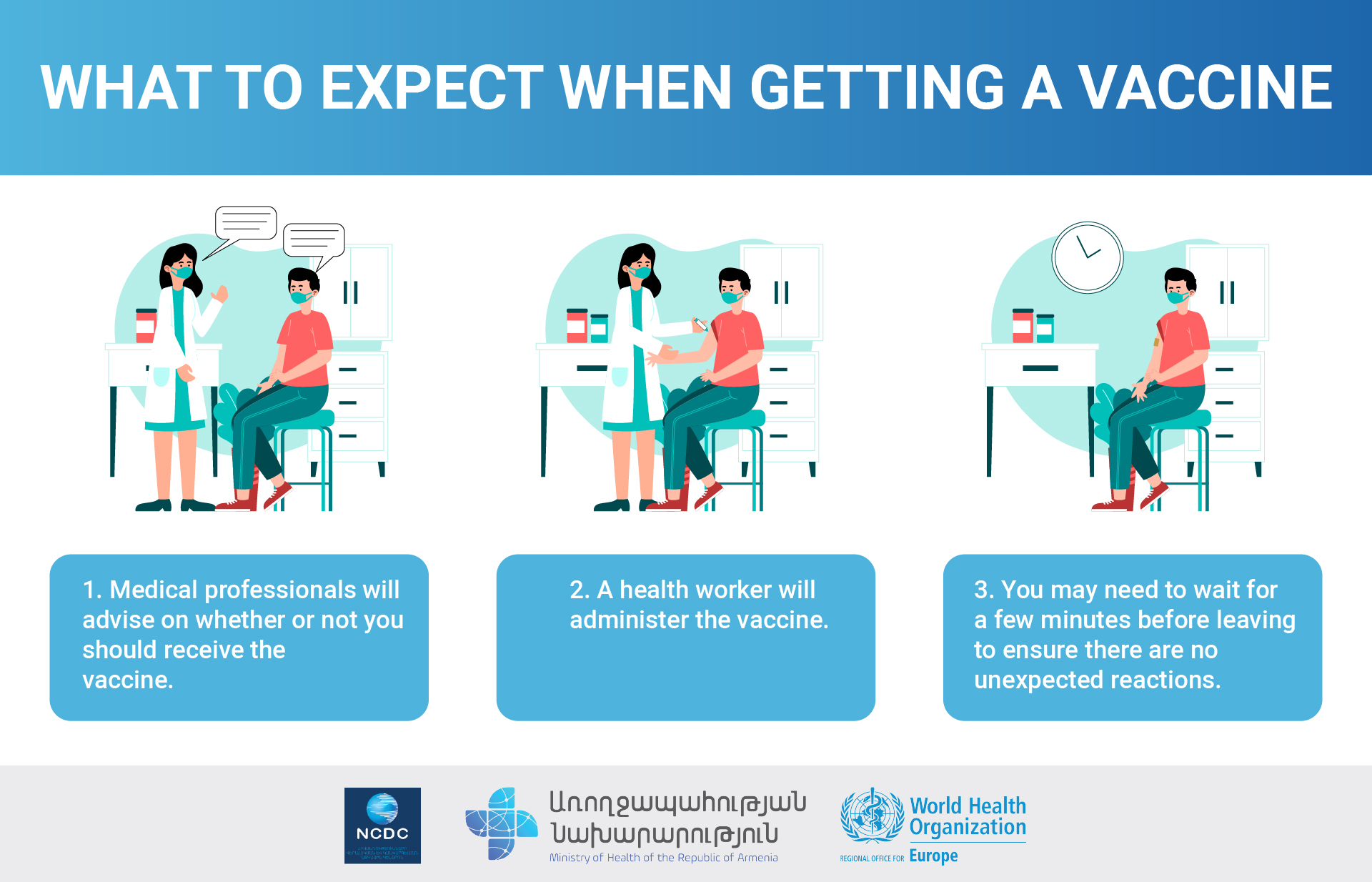 An uncommon side effect is swollen glands in the armpit or neck on the same side as the arm where you had the vaccine. This can last for around 10 days, but if it lasts longer see your doctor.
After being vaccinated, you'll need to stay in an observation area for 15-30 minutes. This is to monitor your reaction to the vaccine and ensure you don't experience any severe side effects. Severe side effects are very rare, but could include: itching, fainting, vomiting, severe allergic reactions, wheezing, difficulties in breathing, or shortness of breath. Let a health worker know immediately if you experience these side effects. Severe side effects, while very rare, are most likely to appear in the first 30 minutes after being vaccinated. Your stay in the observation area means qualified help is on hand in the unlikely event you experience any
3
More severe side effects that are rare can be:
- The anaphylactic shock develops during the first hours after the vaccination
- The following symptoms accompany the anaphylaxis:
• Severe onset
• A sudden drop in blood pressure (60/20)
• filamentous pulse
• Darkening of consciousness
• Redness of the skin on the face
• Severe bronchospasm
• Severe breathing
• Hives, itching, and redness are symptoms of the rash
• Swelling of the tongue and lips
• Quincke's edema accompanied by the following symptoms
• Difficult breathing
• Feeling of suffocation
• Noisy breathing
Thrombosis with low levels of blood platelets (thrombosis with thrombocytopenia syndrome). Extremely rare cases with blood clots in different or unusual locations and excessive clotting or bleeding throughout the body have been observed*.
If you experience any of these from around 4 days to 4 weeks after vaccination, you should seek medical advice urgently:
• a new, severe headache which is not helped by usual painkillers or is getting worse
• an unusual headache which seems worse when lying down or bending over or may be accompanied by
• blurred vision, nausea, and vomiting
• difficulty with your speech,
• weakness, drowsiness, or seizures
• new, unexplained pinprick bruising or bleeding
• shortness of breath, chest pain, leg swelling, or persistent abdominal pain.
In general, people are considered fully vaccinated: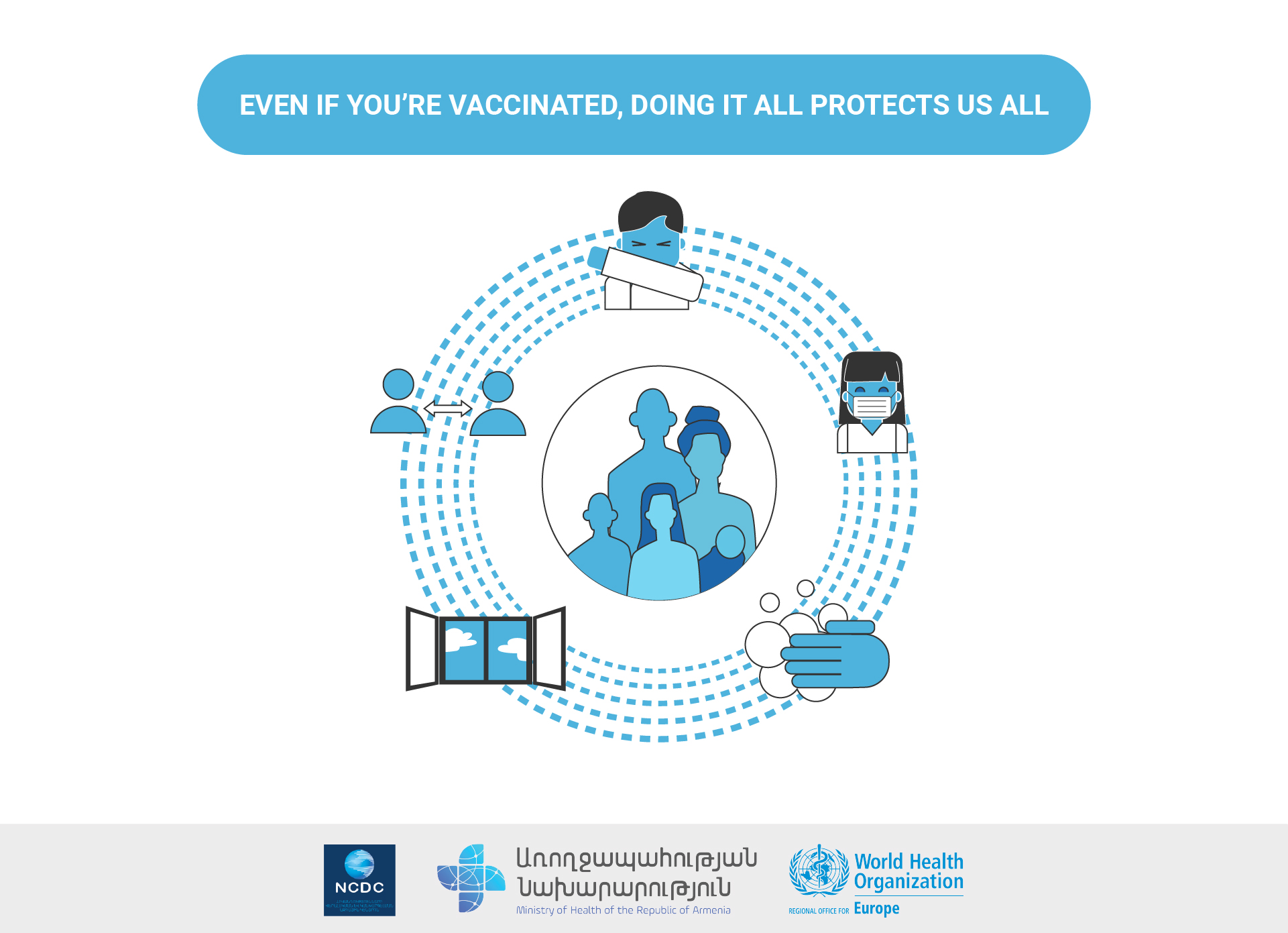 2 weeks after their second dose in a 2-dose series, such as the AstraZeneca, Sputnik V, or Sinovac (Coronvac) vaccines, or
2 weeks after a single-dose vaccine, such as Johnson & Johnson's Janssen vaccine6.
It would be best if you kept using all the tools available to protect yourself and others until you are fully vaccinated. If you are fully vaccinated, you need to follow the recommendations of the corresponding authorities2.
Vaccination Certificate
You should get a vaccination card that tells you what COVID-19 vaccine you received, the date you received it, and where you received it. Keep your vaccination card in case you need it for future use. Consider taking a picture of your vaccination card as a backup copy.
The data of Armenia's vaccinated citizens is recorded into the "ARMED" e-health system, and information about the vaccination and the QR-code may be obtained via the E-health Armed mobile application (Google Play/App Store).
* In the beginning of the vaccination process there have been reports of an extremely rare condition involving blood clots and unusual bleeding after the AstraZeneca and Janssen vaccines. This is being carefully reviewed, but the risk factors for this condition are not yet clear. Because of the high risk of complications and death from COVID-19, the MHRA, the World Health Organization and the European Medicines Agency have concluded that the balance is very much in favour of vaccination5.
References list